Welcome to the St. Croix Valley Employers Association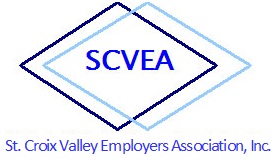 About SCVEA
The St. Croix Valley Employers Association (SCVEA) was formed in 1979 by a small group of business leaders. The first meeting was held in February, 1980, and was attended by 42 representatives from 28 firms.
The origin of the SCVEA grew out of a perceived need to develop a collection vehicle for salary information, data that would help inform local employers with regard to prevailing wage rates for a variety of job classifications. That remains a key focus for many Members. For others, the networking opportunities and/or the training on human resource-related issues are of greater appeal. Regardless, our Members share the common philosophy that the existence of the Association provides a tangible benefit regarding the HR side of businesses in the St. Croix valley.
SCVEA hosts programs which address HR-related issues identified by members as deserving attention. Topics include such areas of interest as:
Labor law
Employment interviewing
New supervisor training
Customer service
Labor force projections and related solutions
Employee retention
Upcoming Events
See All >
January 17, 2017 (All day)

Location:

Check back for more info soon!

Location:

Check back for more info!
SCVEA Mission
Promoting workforce development in St. Croix Valley by addressing broadly defined HR and other business needs.
SCVEA Vision
Building a better business community by being an asset and a resource for St. Croix Valley employers.